Exploitation of artificial grass land of Jahrom University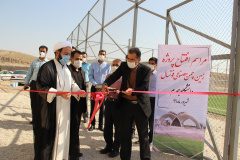 According to the report of Public Relations and International Affairs of Jahrom University; In this ceremony, which was held in the presence of Dr. Sedighi, Deputy Minister of Science and Head of the Student Affairs Organization, the artificial grass field of Jahrom University was inaugurated.
At the ceremony, Dr. Kambiz Minaei, referring to the importance of students 'physical and mental health, added: "Creating sports facilities at Jahrom University, such as lawns, indoor halls, sports clubs and health centers, is in line with paying more attention to students' health than more opportunities for sports." Have and strengthen their physical and mental strength.
In the end, he specified: In Jahrom University, a health counseling center has been established to give specialized counseling to students in sports.
It is worth mentioning that the artificial turf of Jahrom University has been built with a credit of 8 billion Rials and in an area of 1000 square meters.